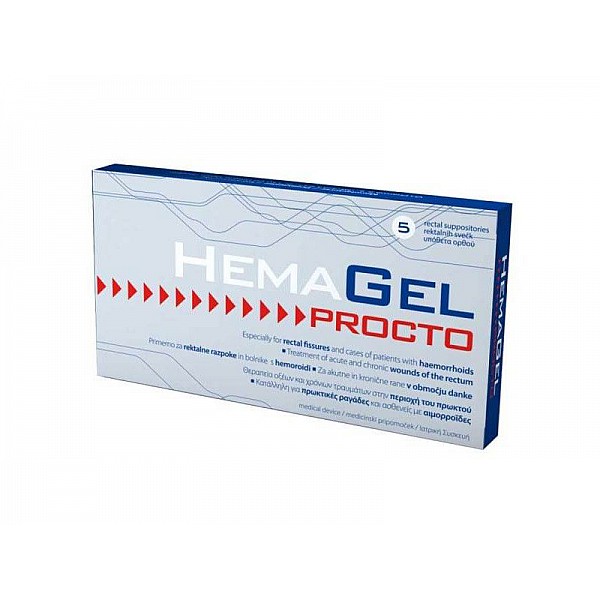 -43 %
Hemagel Procto Suppositories for Anal Stretches, Anal Wounds, Hemorrhoids, 5pcs
Ex Tax: 6.87€
Price in reward points: 687
Stock:

In Stock

Points: With this product you will receive 6reward points!
Model:

8594177490488
HemaGel PROCTO is a medical device.
HemaGel PROCTO offers a unique solution to accelerate the healing of acute and chronic wounds and skin lesions of the anus. HemaGel PROCTO suppositories are used as supportive treatment of hemorrhoids and other rectal diseases such as painful skin cracks (rectal cracks) and slits in the area of ​​anal skin and mucosa (rectal stretch marks).
HemaGel PROCTO reduces pain caused by anus stretches , reduces bleeding during defecation and accelerates healing.
PROCEDURE FOR IMPLEMENTING THE SUPPORTER:
Insert the suppository into the anus, if possible after defecation and washing, with the rounded end first.
Cut 1 suppository from the strip along the punch, tear gently, unwrap the wrapper and remove the suppository.
First insert the rounded end of the suppository deep into the rectum, preferably with a slight bending position.
Use a Hemagel Procto suppository daily, preferably at night, unless otherwise instructed by your doctor .
Thanks to its macromolecular structure, HemaGel PROCTO does not enter the body. Suppositories can therefore be used by all age groups, pregnant and lactating women. Consult your doctor in any case.
Diseases of the rectum require special hygiene and regular bowel movement. Therefore, drink the right amount of liquids, avoid spices and increase fiber intake