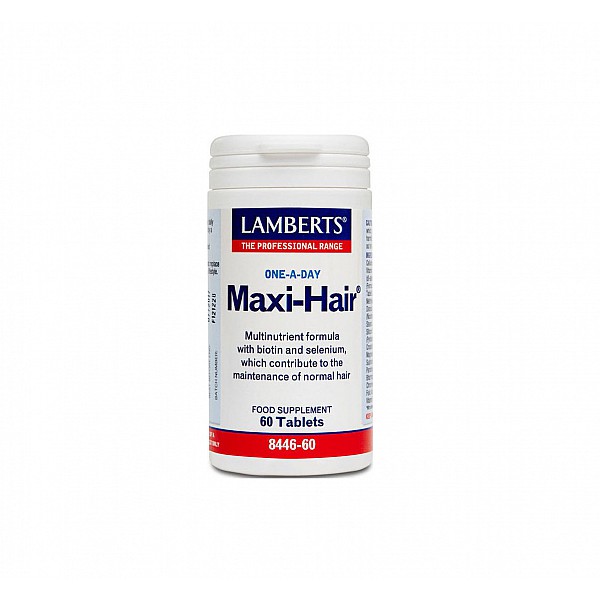 -22 %
Lamberts Maxi Hair 60 tabs
Ex Tax: 20.12€
Price in reward points: 2012
Stock:

In Stock

Points: With this product you will receive 20reward points!
Model:

5055148401351

Lamberts
Healthy hair is an outward sign of health and this product provides 25 essential micro-nutrients to help you stay in optimum health. It contains a good spread of nutrients including the B vitamins and biotin which can help in the maintenance of healthy skin, hair and nails. The nutrients in Maxi-Hair® are all presented at significant levels and so this product can be used as a complete multi, and should replace any other multi that is being taken. In fact the level of B vitamins and magnesium in Maxi-Hair® exceed the amounts found in typical high street multis, and vitamin D is presented at twice the level of most A-Z products. Please note, women concerned about thinning hair should have a look at our Florisene® product, or call our Nutrition Advice Team for further help and advice. One of the most common causes of hair thinning in women is caused by a simple deficiency and the clinically supported Florisene® formula is designed to address this.
Allergen advice 
The following list of allergens are excluded: Wheat, Barley, Soya, Eggs, Milk (and milk products), Lactose, Nuts, Sulphites, Celery, Fish, Shellfish, Yeast and Gluten containing ingredients.
Cautions 
This product contains iron which if taken in excess may be harmful to young children. Keep out of sight and reach.
Storage instructions 
To be stored in a cool dry place and protected from light. A pale pink oval coated tablet.
Each tablet delivers:
Vitamin D3
10µg
Vitamin E
20mg
Vitamin K
70µg
Vitamin C
70mg
Thiamin (Vitamin B1)
10mg
Riboflavin (Vitamin B2)
10mg
Niacin (Vitamin B3)
20mg
Pyridoxine (Vitamin B6)
10mg
Folic Acid
400µg
Vitamin B12
6µg
Biotin
150µg
Pantothenic Acid (Vitamin B5)
5mg
Calcium (as phosphate)
75mg
Magnesium (as oxide)
150mg
Iron (as ferrous fumerate)
17mg
Zinc (as citrate)
15mg
Copper (as sulphate)
1mg
Manganese (as sulphate)
2mg
Selenium (as L-selenomethionine)
100µg
Chromium (as picolinate)
200µg
Iodine (as potassium iodide)
150µg
Choline Bitartrate
5mg
Inositol
5mg
Tableted With:
DiCalcium Phosphate Cellulose Tablet Coating (Colours: Titanium Dioxide & Iron Oxides Hydroxypropyl Methylcellulose) Stearic Acid Silicon Dioxide Crosslinked Cellulose Gum Magnesium Stearate.
Disintegration Time 
Less than 1 hour.
Suitable for vegetarians.